Just about to start my work this morning, I heard a Siti Nurhaliza's song,
Bukan Cinta Biasa
, aired on Asia-wide Singapore's Channel News Asia. My eyebrows lift up wondering why her song shown on that channel. Then in a while the presenters announced that they would show their encored interview with Siti Nurhaliza, a Malaysian pop idol. Wow, that's suprising me! So quickly I grabbed my camera and stayed in front of the television and put aside my tasks, not to miss this not-so-often chance. The first thing tinkled in my mind was would Siti speak English? As this is an English news channel, I did hope Siti won't blow her chance to promote herself Asia-wide by speaking in English, eventhough not very fluently.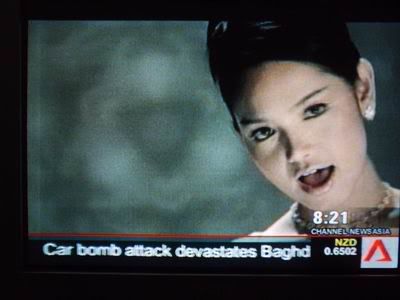 Ku Milikmu
video clip by Siti Nurhaliza
The presenters kept repeating that Siti is a sweet girl and they're amazed with Siti's milestones so far, eventhough she's only 25 this year, by winning so many awards in Malaysia, Singapore and Indonesia. Nevertheless, I don't think Siti is well-known beyond Malay world audience. This's shown by the presenter's way of introducing Siti. Looked like they just found Siti Nurhaliza. Before this, I had a chance to ask my colleague in Singapore (Chinese) about Siti but she didn't know her. I also have a friend in Bangkok who bought Siti's
Seri Balas
CD, though, just to hear
Cindai
, but this is simply because my friend is mixed between Thai and Malay.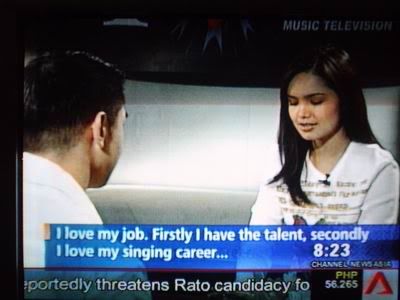 Siti is being interviewed by Timothi Goh
When the interviewer, Timothi Goh asked the first question to Siti, I was so excited. But everything dashed out as Siti replied in Malay...! Only English subtitles appeared on the screen to translate what Siti's saying. I didn't think Timothi understood Malay and it's true as I heard somebody's voice from the side of the camera, translating concisely on what Siti had just been saying. However, I just continued watching. On the next questions, Siti spoke a little bit in English but eventually conversed in Malay instead. I tought she simply didn't have confidence.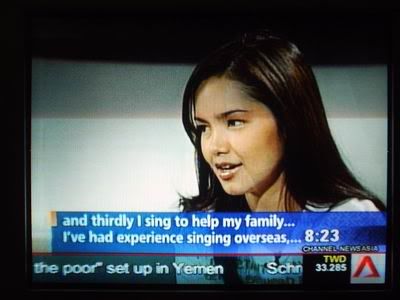 Subtitles for those who don't understand Malay
Eventhough quite disappointing, I still praise Siti because she understood the questions in English and the interviewer didn't have to be a Malay-speaking person. Furthermore, I can't imagine if Siti forced herself to speak in English as possible broken English might not be understood and eventually embarassed her. It's better not to do anything that you are not confident. But when do you want to speak and practice English? Oh.. better not to do it in public!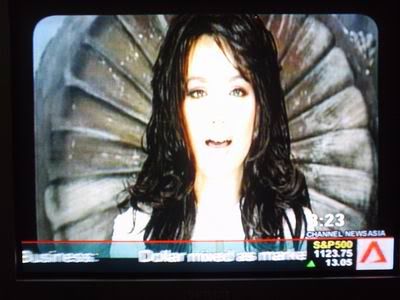 Bukan Cinta Biasa
video clip by Siti Nurhaliza
I do hope Siti will improve her English. Now outside people, especially in Singapore, are talking about Siti, referring to her sublime performance singing with Gareth Gates in recent MTV Asia Awards. Outside doors are opening up for Siti but if she still cannot speak English, the universal language, everything will be blown away!