This is my routine during weekends. I feel so lazy to hang out cause I spend so much of my time outside while working on weekdays. In JB, there are a lot of free terrestrial TVs due to its location between three countries - Malaysia (where JB is located), Singapore and Indonesia. If the weather looks fine, you may get 19 channels all together!
There are free six channels in Malaysia namely TV1, TV2 (both Government's TV), TV3, NTV7, 8TV and Channel 9. From Singapore, you can catch 7 channels - Channel 5, Channel 8, Suria, Central, Channel News Asia and two private TVs, Channel U and Channel i. There are two clear channels from Indonesia namely RCTI and SCTV and depending on the weather, you may also get TPI, Trans TV and TVRI. Malaysia TVs are transmitted from Gunung Pulai in JB, Singapore TVs are from Bukit Batok and Indonesia TVs are from Batam Island.
Basically, Singapore TVs' programmes are almost identical to Malaysia TVs' programmes. However, in Singapore the Government's channels have better rating compared to private TVs' rating while in Malaysia, on the other hand, private TVs have been more successful than Govenment's TVs. Due to its similar multicutural society, the programmes are done in local languages and are subtitled to attract its non-speaking programme language audience.
In Indonesia, the situation is different in which lots of programmes are in Bahasa Indonesia. For imported programmes from outside Indonesia, they must be dubbed into Bahasa Indonesia except programmes in English due to its status as the unversal language. You must not be suprised if you see Jackie Chan, Shah Rukh Khan or Won Bin all "speak" in Bahasa Indonesia! This is actually Indonesia Government's policy to ensure unity among Indonesians which come from hundreds of races from thousands of islands all over Indonesia by speaking one language - Bahasa Indonesia.
Below are the pictures from Indonesia TVs:
American Idol on RCTI. Only English programmes are aired in its original language whereas others must be dubbed into Bahasa Indonesia.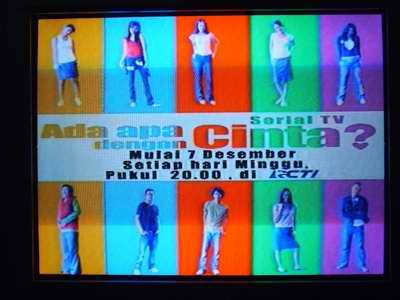 After being so successful in film Ada Apa Dengan Cinta, its TV series are shown on RCTI; except the original actor and actress, Nicholas Saputra and Dian Satrowardoyo, are replaced by Cinta and Rangga casted by other casts.Note that in Indonesia, 24-hours system is used e.g. 20.00 WIB. WIB is Waktu Indonesia Barat (West Indonesia Time).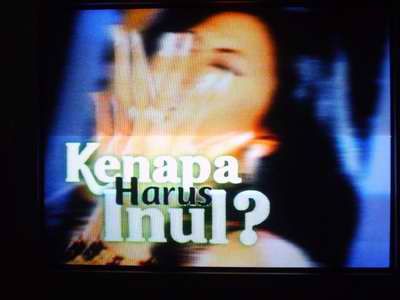 Yes, this is Ratu Ngebor, Inul Daratista ! After her controversy with Rhoma Irama, TV series Kenapa Harus Inul? shown on SCTV. It is all about Inul who comes from kampung successfully becomes a top singer in Indonesia."Ngebor" here means drilling. The nickname is given to Inul because she dances like a driller on the stage, seducing the audience especially men. "Ratu" means queen. So directly translated, Ratu Ngebor means Queen of Drilling.
"Para penonton, bapak-bapak, ibu-ibu,
semua yang ada di sini,
kita goyang yuk!"
Pos berkaitan:
Misteri Nusantara
Who Wants To Be/Steal A Millionaire